Mosquitron Electronic Mosquito Lamp: Keep Mosquitos Away
$59.00

$59.00

Save

$100.00
---
---
Effective Mosquito-Management All Night Long
This energy-saving, USB-powered mosquito lamp keeps you protected all night from the pesky insects
The Mosquitron electronic mosquito lamp is the most simple solution to your annual mosquito problem - and it works so well, you'll wonder why you've not tried it before.
Automatic Mosquito Protection With a Smart Light Sensor
Drawing power from any USB source - computer, power bank or wall plug with USB connection - the Mosquitron lamp uses LED bulbs to emit ultraviolet blue wavelengths of light that mosquitos are attracted to. When mosquitos fly close, the powerful but almost-silent fan draws the bugs in and captures the mosquitos inside the lamp.
The Mosquitron electronic mosquito lamp is specifically designed to ensure that it's virtually impossible for the bugs to escape once they've been sucked inside. The wide inlet, fine mesh funnel and a specially thickened storage box constructed out of ABS material gives you all-night protection from mosquito bites.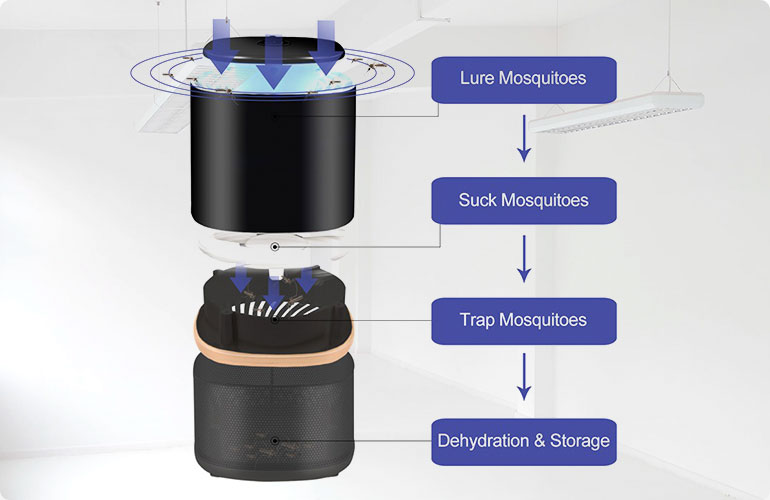 The
 

Mosquitron

 

Lamp Can Be Used Anywhere - By Anyone

With no complicated operating instructions and no harsh chemicals, there's really no restrictions on who can use the Mosquitron lamp. Whether you're young or old, living in the city or out in the sticks, the Mosquitron can effortlessly keep you protected from uncomfortable and unpleasant mosquito bites.
Mosquitron is healthier and more effective compared to other repellents.
While chemical sprays and plug-in repellents might work, they often have a pungent odor, and may even be harmful to your family's health. 
If a concoction of chemicals can knock out a mosquito problem immediately, what would they be doing to your health as you breathe it in?
Mosquitron does not use chemicals to get rid of the problem. It's hygienic and easy to clean and can be used anywhere.
Thousands of customers swear that the price is a fair one, as it is guaranteed to keep yourself bite free and healthy.
How Does It Work?
It works by using a special 365nm wavelength purple light that mimics the human body. Mosquitos find it irresistible. 
First, they see the light from afar. They fly towards it hungry for blood. When they fly close to the machine, a high powered but silent suction fan pulls them inside of the trap.
Once the mosquitoes have been tricked inside, the trap dehydrates them quickly killing them and storing them in the easy to clean capture tray.
All you have to do is plug it in, the machine starts working automatically!
You will be shocked how many mosquitoes are pulled into the trap and away from your skin!
---